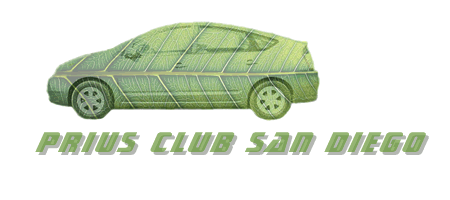 ---
The Priusclub will meet on Sunday, July 27 10 am - 4 pm.
We will be holding our Prius Club meeting in conjunction with "Street Smart" put on by the Center for Sustainable Energy of California.

Street Smart will feature a variety of alternative fuel vehicles, workshops, and tips on hypermiling. The filmmaker who made "Who Killed the Electric Car" will be speaking. This should be a very informative and fun event. Street Smart is currently scheduled to run from 10 am to 4 pm, but their schedule is not yet finalized.

We will also hold a Prius Club lunch meeting at noon in conjunction with this event (place to be announced in our next email).

So please hold this date on your calendar for us and let us know if you think you will be able to attend, so we can give the restaurant an idea of how many people will be attending.

Final arrangements will announced via email by Friday, July 18th.
---