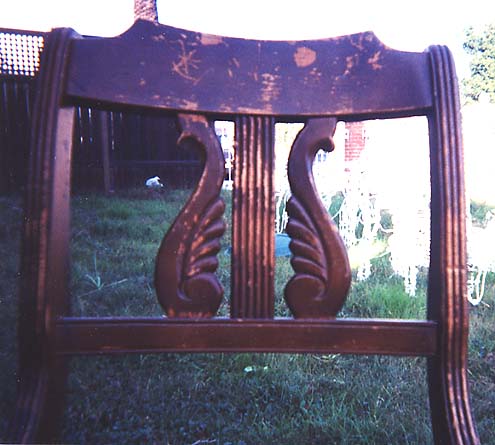 My Diamond in the rough.
When I went table shopping, there was a little hole in the wall used furniture store that I had on my list to check, but it was closed and I found the perfect table at an antique store at a considerable discount due to damage to the veneer. After another fruitless day searching for a chair, I drove by and the shop was open so I stopped in, not expecting to find anything. This place was a rat's hole, with furniture piled floor to ceiling and wall to wall, with only a narrow pathway to navigate from room to room. But I told the owner what I was looking for and he led me to this. After looking at wobbly antique $200 chairs I bought it. $15 and it's solid. None of those scratches went deeper than the varnish. Now off to Home Depot for sandpaper and varnish.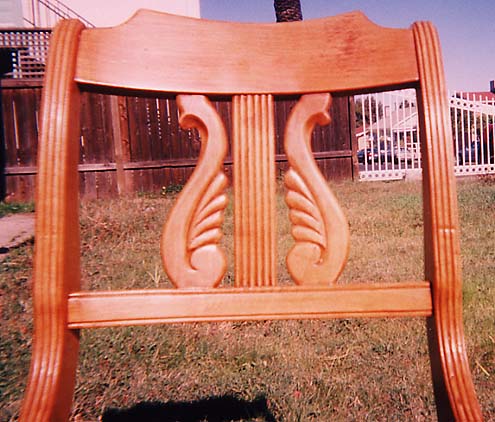 And here it is....$60 worth of sandpaper, stain and varnish later. Quite an improvement. There was a deep stain in the wood I never did manage to get out, but all in all I am very pleased with how it came out.
You see? It's all in looking at the potential of what can be.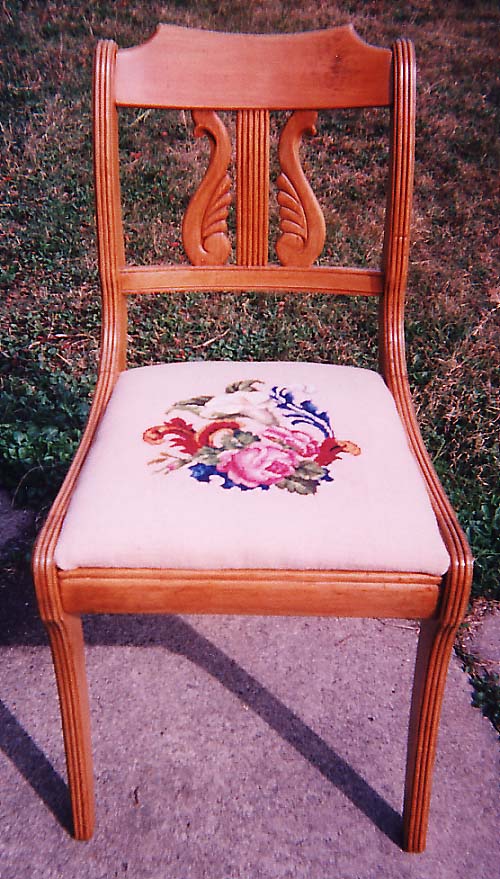 Another $65 of needlepoint supplies later and here we have the finished chair. It took me about 4 days to do the central flower pattern and about 10 days to work the background. The pattern is from Raffaella Serena's Embroideries and Patterns from 19th Century Vienna, 1998, Antique Collector's Club. It is back in print at amazon.com. Another of her books, Berlin Work, Samplers & Embroidery of the Nineteenth Century, is available in the U.S. from Lacis. Both books have fabulous antique patterns which Ms. Serena has charted and included a complete list of DMC colors for both wools and cotton floss. I highly recommend either if you want to do something really special.
(Amazon.com lists a new book of hers, Animal Embroideries & Patterns : From XIX Century Vienna, from the Nowotny Collection, which I'm sure will be just as good as her other books.)
Well, in total I spent about $160 on this chair. I think it was worth it. Gee, I think I should go back to that used furniture store and see what else is hiding in there.