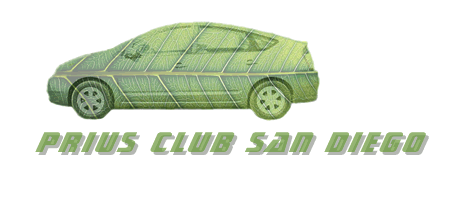 ---
Find out about the Electric Block Heater (EBH) and who it can benefit the Prius even in mild climates.
Top 10 Myths about the Prius.

10. Emergency workers won't go near it. If you're in an accident, you'll be electrocuted.
No. And no.
9. My full size pickup truck gets better mileage on the freeway.
Every car gets lower mileage than what the EPA numbers say. The Prius, even when driven "badly" (inefficiently), will still get around 40-45 mpg. Smaller diesel cars may be close, but the Prius is rated SULEV- Super Ultra Low Emission Vehicle(2001-03) or AT: PZEV- Advanced Technology Partial Zero Emission Vehicle (2004--) by the State of California . The Prius now qualifies for HOV status in California. Apply for your decal HERE (Limited to the first 75,000 and expires Dec. 31, 2007.) The Prius combines high mileage and low emissions in a midsize car that can carry five and cargo.
8. It's really small.
The current Prius is a midsize car and the interior is almost as large as a Camry.
7. How do you get up those big hills?
You...put your foot on the accelerator like any other car.
6. The engine is smaller.
It's the same engine as the Echo. The Echo is 987kg and the Prius is 1,300kg. The Echo uses the Otto cycle instead of Atkinson cycle. HP and torque ratings of the Echo motor and the Prius ICE motor:

Echo Sedan/Hatchback: 1.5 litre 1NZ-FE; 108 HP, 105 lb ft torque

Prius: 1.5 litre 1NZ-FXE; 76 HP, 82 lb ft of torque.
plus Electric motor --67 HP, 295lb-ft @ 0-1200rpm

Instead of a supercharger, the electric motor is used to provide the assist when accelerating and if needed to maintain steady speed. Same engine different operation cycle for the engine. The Atkinson cycle has been around since the late 1800's and it's big problem is lack of torque especially when it is operating outside its optimal RPM. If you put the Prius ICE into the Echo no one would want to drive it. The MG2 provides the second part of the hybrid system to create a functional whole and that is the low end torque. The Prius ICE is more efficient and gets more usable power out of a gallon of gas.
5. Toyota stole the technology from Ford.
No. Ford developed technology that might have infringed on Toyota patents, so an agreement was signed and money was paid to Toyota to avoid any future litigation.
4. How much did you pay over sticker?
I paid MSRP. The car is popular (supply and demand) so you can't really negotiate below sticker. But if you're a CostCo member...that might help. You can also negotiate a deal with the internet manager of a dealership by e-mail, using online car services. But enough cars are available you should not have to pay any market rate adjustment higher than MSRP.

I will get a Clean Fuel Vehicle income tax credit of $2000 in 2005. As part of the new Energy Bill, the Prius, as well as other hybrids, will offer their owners a tax credit. But it is limited to 60,000 cars per manufacturer. When that number is reached, the credit starts to phase out with lower amounts. If you want the best tax credit and can wait, buy your car right after January 1, 2006. To qualify the car must be new. Then you can apply for an HOV decal. Don't be surprised if there is still a waiting list. Toyota is making more cars, but the demand is going up. The tax credit, HOV decal and price of gas still makes the demand outpace the supply.

You want a great "deal" try an SUV. You really want way below sticker? Try GM.
3. There's a waiting list.
Not anymore. At least not in California. I went to the dealer, test drove it and bought it. Just like any other car. They have them. You can even check inventories on the internet to find the combination you want. If you want a certain exterior/interior color combination and a certain package option you might have to wait a month or two...like any other car you order. However, if you wait until after Jan.1, 2006 you may find there is a waiting list again. At that time the Energy Bill tax credit will kick in. The HOV decal from the Transportation Bill is already in effect. And every time the price of gas goes up there is more interest in hybrids. If there is more demand then their is supply, there is a waiting list. So if there's a waiting list again, that's why.
2. You'll have to replace the battery in a year and it will cost $10,000. Or you will have to replace the battery every five years and they cost over $5,000 each time.
Warranted for 10 years, 150,000 miles in California. The battery should last 19 years/500,000 miles. Engine is supposed to last 500,000 miles, if not more. The Prius has been on the road in Japan since 1997 and in the U.S. since 2000. Toyota has not had to replace a battery due to failure. There is a Taxicab driver in Canada that has driven his Prius over 200,000 miles without a problem.
1. Where do you plug it in? How long does it take to charge?
You don't plug it in. It recharges itself when you drive. Do you recharge your regular car battery?
---